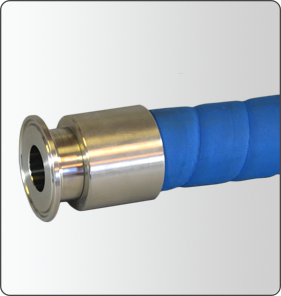 Teflon® Smooth Bore Rubber Covered Hose
Extremely durable; crush and kink resistant
Available ½ through 4" diameters
The 6278 hose is constructed of smooth bore Teflon® or FEP liner with a crush and kink resistant double wire helix. This hose is ozone and abrasion resistant and has a cover reinforced with nylon plycord.

This hose offers a robust construction, suited for a wide variety of applications including steam cycling. This extremely durable hose is great for chemical, food, beverage and pharmaceutical transfer.

Available in a wide variety of end fittings, sanitary and industrial.
PDF Spec Sheet
PDF Installation Instructions